Jurassic World: Dominion Dominates Fandom Wikis - The Loop
Play Sound
Gathering is a game mechanic that allows the player to pick up overworld loot found on the surface. Gathering does not require any tool and can be performed by simply interacting with the object and consuming stamina. In exchange from gathering loot, the player receives an item or several items in relation to the loot.
Most gatherable loot can be identified by a sparkle on an object. Other objects, such as tumbleweed, can be interacted with.
Loot objects
[
]
Object
Description
Location
Loot

Desert Mushroom
Although mushrooms grown in the desert have adapted to the dry environment of the desert a little, they only grow during the relatively humid season of the year.
Outskirts
⁠⁠

Desert Mushroom


⁠⁠

Desert Mushroom Strains


⁠⁠Dew


Oregano
A plant with some medicinal purposes, but it's mostly used for flavoring dishes.
Outskirts
⁠⁠Dew
⁠⁠

Egg


⁠⁠Gols
⁠⁠

Oregano


⁠⁠Plant Fiber
⁠⁠

Sage


⁠⁠Sandworm


Sandberry
Fruit grown from the Sandberry plant, a specialty product of Sandrock, beloved by most; often made into preserved fruit and even skincare products for people to use.
Outskirts
⁠⁠Dew
⁠⁠Gols
⁠⁠Plant Fiber
⁠⁠Sandberry


Sandrice
A desert specialty, a staple food in Sandrock. It can grow in sandy soil and doesn't need much water to grow, making it a favorite for desert planters.
Outskirts
⁠⁠Dew
⁠⁠Plant Fiber
⁠⁠

Sandrice


⁠⁠

Sandrice Seed




Sand Leek
The whole plant is edible, making it a desert plant with both ecological and economical value.
Outskirts
⁠⁠Dew
⁠⁠

Sand Leek


⁠⁠

Sand Leek Seed




Tumbleweed
You know you're rural when you see this, slowly floating nearby. A true desert representative, it is somehow a peaceful thing to watch, rolling through with the breeze.
Outskirts


The Badlands

⁠⁠Plant Fiber
⁠⁠Wood

Miscellaneous
[
]
Loot by location
[
]
Outskirts
[
]
Trash
[
]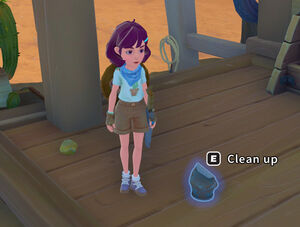 Trash is a gatherable loot that can be found littered throughout the city of Sandrock. Trash come in the form of various objects, such as paper, clothing, or rubber product, metal parts, food scrap, or broken weaponry. When the player approaches trash, a gather action called "clean up" appears. Gathering trash does not consume stamina nor does the player need to hold the "E" button.
Possible loot
[
]
Dregs are common loot from picking up trash.