Jurassic World: Dominion Dominates Fandom Wikis - The Loop
Play Sound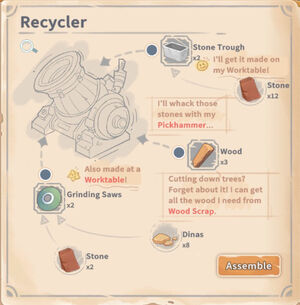 The Handbook is a guide containing all learned Assembly Station diagrams. Each diagram outlines the assembled item and its required assets in order to construct the item.
Usage
[
]

The Handbook consists of the menu and details tab. Unknown items are identified as a grey-silhouetted Recycler icon with a question mark in the middle.
Menu
[
]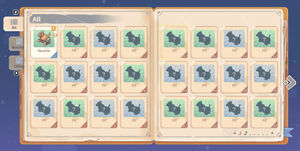 The menu is a table of contents use to quickly navigate through different diagrams. The number on the bottom-right of each item indicates the page number. Each item is categorized under three colors: green for crafting station; purple for important items, usually required to progress through the story; and grey for generic items, such as decor items.
Details
[
]
The details contain the diagram. An artwork of the diagram is attached. Each required material and its quantity is outlined, arrowing to the artwork; hovering over the material displays an info panel detailing on-hand quantity and sources. Crafted materials are noted with the required raw materials in order to create the crafted material.
The player can navigate through the Handbook by using the arrow icons on the left and right side of the page. The player can also use the page numbers on the bottom right of the page to quickly navigate to the first and last pages, or to the preceding and succeeding pages.
Iconography
[
]
Icons may appear above the item page.
indicates an assembled item is currently being constructed on the Assembly Station.
indicate a mission item.
indicates a commission item.
Diagrams
[
]
Diagrams can be obtained throughout the game, usually given during the mission that requires the assembled item or as rewards for completing a mission.
| Item | Diagram | Type | Page number | Conditions |
| --- | --- | --- | --- | --- |
| Recycler | | Crafting station | 1 | The New Builder |
| Worktable | File:Diagram Worktable.png | Crafting station | 1 | Research |
| Furnace | | Crafting station | 2 | The New Builder |
| Grinder | | Crafting station | 2 | Research |
| Crane Lift | | Mission | 3 | Picking Up the Slack |
| Processor | | Crafting station | 4 | Research |
| Stage Support | | Mission | 5 | The Show Must Go On |
| Drying Rack | | Crafting station | 5 | Research |
| Stage Backdrop | | Mission | 6 | The Show Must Go On |
| Dew Collector | File:Diagram Dew Collector.png | Crafting station | 7 | Research |
| Sunshade | | Mission | 8 | Made in the Shade |
| Basic Awning | | Generic | 8 | The New Builder |
| Hydrogel Door | | Mission | 9 | Moisture Farm Blues |
| Hydrogel Core | | Mission | 10 | Moisture Farm Blues |
| Forging Machine Lv1 | | Crafting station | 11 | Research |
| Refiner | | Crafting station | 12 | Research |
| Sorting Machine | | Mission | 13 | Keep on Rockin' |
| Intermediate Worktable | File:Diagram Intermediate Worktable.png | Crafting station | 14 | Research |
| Suspended Tram Cart | | Mission | 15 | Operation De-Geeglate |
| Civil Recycler | | Crafting station | 16 | Research |
| Ore Refinery | | Crafting station | 17 | Research |
| Fire Powered Generator | File:Diagram Fire Powered Generator.png | Crafting station | 18 | Research |
| Civil Furnace | | Crafting station | 19 | Research |
| Apprentice Cooking Station | | Crafting station | 20 | Research |
| Truss | | Mission | 21 | In Trusses we Trust |
| Civil Processor | | Crafting station | 22 | Research |
| Civil Grinder | | Crafting station | 23 | Research |
| R-47 Mobile Suit | | Mission | 24 | Qi's Gungam Opus |
| Primary Jewelry Processing Machine | | Crafting station | 25 | Research |
| Magneto Inductive Inspector | | Mission | 26 | Mint Condition |
| Fake Yakmel | | Mission | 27 | A Fake Friend |
| Yakmel Station | | Mission | 28 | Get Con-yak-ted |
| Blender Lv1 | | Crafting station | 29 | Research |
| Sandrunning Kiosk | | Mission | 30 | Recipe for Fun |
| Water Tank | | Mission | 31 | Appetite for Construction |
| Tower Frame | | Mission | 32 | Appetite for Construction |
| Water Filter | | Mission | 33 | Appetite for Construction |
| Chef's Cooking Station | | Crafting station | 34 | Research |
| Tailoring Machine Lv1 | | Crafting station | 36 | Research |