Jurassic World: Dominion Dominates Fandom Wikis - The Loop
Play Sound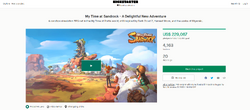 A Kickstarter campaign is a limited-time campaign hosted on the Kickstarter platform for backers to pledge money to help further development of projects, in this case furthering the development of games and expanding the available features and depth of content. Pathea Games has hosted two Kickstarters for the My Time series thus far: one for My Time at Portia and one for My Time at Sandrock.
My Time at Sandrock Kickstarter campaign

[

]
The My Time at Sandrock Kickstarter campaign lasted from October 26, 2020, 6am EST until November 22, 2020, 7am EST. The Kickstarter campaign can be viewed here. The campaign reached its minimum funding goal of US$ 100,000 in under 19 hours after its launch.[1] It reached a total of US$ 524,770 dollars pledged by 9,915 Kickstarter backers. Including the Chinese Taobao donations, a total of 10,495 people pledged 551,355 dollars.[2]
The main reason for doing the Kickstarter campaign was to secure funding to provide a better multiplayer experience in My Time at Sandrock.[3]
Stretch goals
[
]
Stretch goals were announced shortly after reaching the initial goal. These stretch goals are funding milestones that can be reached in order to develop extra content for the base game, available to all players.[1]
Unlocked stretch goals
[
]
100K: Multiplayer
125K: In-game Kickstarter t-shirt
150K: Wear Robo Suit
200K: More character customization
250K: Buggy Racing minigame
300K: More visitors from Portia
400K: Alternative Clothes for Romanceables
500K: New Dungeon
Rewards
[
]
Kickstarter rewards, also referred to as perks, are given to people that pledged to the Kickstarter during the fundraising period. Unlike stretch goals, which unlock rewards for all players, these Kickstarter-exclusive rewards are only given to those who backed certain pledge tiers. The higher the pledge, the more rewards that the backer receives. Some rewards are physical items that require shipping cost, which are manually added to the pledge.
For backers who receive multiple game keys as rewards as well as digital in-game exclusive items, all of their keys are eligible for all of their digital rewards, including from both their chosen tier and their chosen add-ons.
Backers who chose add-on(s) or console key(s) were sent a survey via Kickstarter after the campaign to confirm details such as which add-ons and which console keys were desired.
Kickstarter-exclusive items
[
]
In-game kickstarter-exclusive items are:
Kickstarter in-game t-shirt
In-game weapon ($65 tier and above)
In-game casual clothes set ($70 tier and above)
In-game accessory ($80 tier and above)
In-game pet ($80 tier and above)
Additional in-game weapon ($150 tier and above)
In-game wedding clothes set ($200 tier and above)
Simple Wedding Clothes (available as a $15 add-on, not part of any tier)
Add-ons
[
]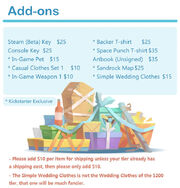 Add-ons of items from later tiers were later added to the campaign. Backers were able to overpledge to their chosen tier to add additional steam or console keys or additional items not part of their chosen tier.[4] This did not apply to the Wedding Clothes from the 200 dollar tier which is exclusively available to that tier and above. Instead, a simplified wedding outfit was included in the list of add-ons.
Pledges could only be changed during the Kickstarter campaign, i.e. until November 22, 2020. A survey has been sent to all Kickstarter backers. If the backer has overpledged their tier in order to add one or multiple add-on items, these must be specified in the survey. The regular version of the backer's tier is listed on the left side of the screen. The backer should only specify items not already included in their standard tier.
E.g. a backer that chose the 80 dollar tier, which includes the in-game pet, but overpledged 15 dollars to get the simple wedding outfit, should mark only the simple wedding outfit in the survey. The backer should not mark any items that are part of their tier by default. In the 80 dollar tier example, the pet should not be marked since it is part of the tier by default.
The first digital rewards, a set of six desktop wallpapers, were sent in early December 2020 to backers pledging 10 dollars or more. In-game digital rewards are expected to be launched around the time of the game's launch in 2022.
Design perks
[
]
Backers of the $500 tier and up have the privilege to design certain elements in Sandrock, such as custom weapons and hairstyles. These backers were contacted directly by Pathea with instructions about the possible types of designs and deadlines for submitting them.
Wishlist campaign
[
]
On November 22, 2020, Pathea announced a Steam Wishlist campaign that will end when the game goes into Early Access. If enough people add the game to their wishlist on Steam, Pathea will add some of stretch goals that were not reached during the kickstarter campaign. When this campaign began on November 22, 2020, 92,000 Steam accounts had already wishlisted the game. The 250,000 wishlists goal was reached June 2021 meaning that kids will grow up to at least primary school age.[5] The 300,000 wishlist goal was reached two weeks later after a gameplay demo had been available on Steam for a limited time. Reaching this goal means that a meerkat pet will be added to the game.[6] 400,000 wishlists was reached in November 2021, unlocking two additional romanceable characters, Ernest and Jane. On April 29, 2022, the number of wishlists had reached 500,000 unlocking the final wishlist goal.[7]
Unlocked wishlist goals
[
]
100K: Wear makeup
150K: Customizable Furniture
200K: Multiplayer Play-date
250K: Kids grow up
300K: An Extra New Pet
500K: All eligible characters are romanceable!
Closed beta
[
]
My Time at Sandrock first became available to play on February 4, 2021, when Pathea delivered Steam keys to those who backed the Steam Beta Access tier and up.
Late October 8, 2021, access to the closed beta was extended to backers of the Limited Early Bird Pack and Digital Starter Pack tiers, who were intended to have gotten their keys when Early Access began. Due to the extended wait for Early Access to begin, Pathea opted to give these players some of the beta experience, though the original beta players will have more content than the new wave of beta players to maintain a level of exclusivity.[8]
Contacting Pathea
[
]
My Time at Sandrock Kickstarters paying for physical items, where the backer is moving to a new address or is about to change their email permanently, contact sandrock_ks@pathea.net using the same email that was used for backing the game. Please also include your backer number if possible. Backers ordering add-on items who have not received the survey can contact the same e-mail.
Issues
[
]
Upon launch, would-be backers of physical rewards outside of three select countries were either unable to select their country for reward delivery or were prompted with excessively expensive shipping costs for said physical rewards. After troubleshooting by staff, over the course of the day, some backers were able to pledge of their desired reward successfully, though by the time of the initial $100,000 funding goal being reached, some backers were still unable to choose their country.
Gallery
[
]
References
[
]
↑ 1.0 1.1 Sandrock Kickstarter Hits 100K! Thank you backers!!!. Pathea Games. Published October 27, 2020. Retrieved October 27, 2020.
↑ My Time at Sandrock Kickstarter update 13, released on November 22, 2020
↑ My Time at Sandrock Kickstarter update 4, released on October 31, 2020
↑ 250K Wishlist Reached Before Early Access!. Steam announcement. Published June 7, 2021
↑ 300K wishlist goal reward reached!. Steam announcement. Published June 22, 2021
↑ Steam announcement April 29, 2022
↑ My Time at Sandrock Kickstarter update 39, released on October 9, 2021