Jurassic World: Dominion Dominates Fandom Wikis - The Loop
Play Sound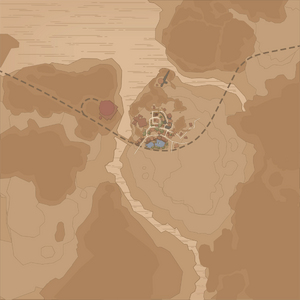 The map is a geographical diagram displaying the city of Sandrock, landmarks, regions, shops and services, and other noteworthy locations. At the player's arrival, most of the map is covered in a "fog-of-war", meaning unexplored areas are not charted on the map. Unlike in My Time at Portia where the map is uncovered by completing certain missions, in My Time at Sandrock, exploring the uncharted areas immediately updates the map.
The map interface also displays the location, time, and day.
Interactive map
[
]
This interactive map marks noteworthy locations of interests that can be toggled under "Filters" to display all markers or specific categories. Zoom in or out using the mouse wheel or by utilizing the "+/-" buttons on the interface. Additionally, clicking on the markers displays more information, as well as relevant links.
Main points of interests (orange)
Abandoned Ruins (green)
Fishing spots (purple)
Hazardous Ruins (red)
Stores (yellow)
Yakmel Stations (blue)
Using the map
[
]
Aside from displaying the topography of Sandrock, various icons are marked on the map.
The player can zoom in or out using the mouse scroll wheel.
Managing the map
[
]

Map icons can be toggled on or off by clicking on the "i" icon on the bottom left.
Construction info
Map text
Shop icons

Play and date

Fishing spots

Mission icons
Friend icons
Monster icons
Other icons
By default, the monster icons are toggled off.
Iconography
[
]
Icon legend
Icon
Description
Icon
Description
⁠⁠
Player's location
⁠⁠
NPC location (pre-Friend status)
⁠⁠
Friend location
⁠⁠
Monster location
⁠⁠
Workshop
⁠⁠

Mail

⁠⁠
Map marker
⁠⁠
Recycle
⁠⁠

Fishing spots

⁠⁠
Yakmel Station
⁠⁠
Main mission start, major event
⁠⁠
Side mission start, minor event
Shops and services
⁠⁠
Blue Moon To-Go
⁠⁠
By The Stairs
⁠⁠
Ceramic Gate
⁠⁠
Commerce Guild Store
⁠⁠
Construction Junction Shop
⁠⁠
Eufaula Salvage Shop
⁠⁠
Fang and X Clinic
⁠⁠
Farm Store
⁠⁠
Hammer Time
⁠⁠
Souvenir Shop
⁠⁠
Tailor Made
⁠⁠
Wandering Y Store
⁠⁠
Water World
Yakmel Station
[
]
Scattered throughout Sandrock are Yakmel Stations, a Sandrock-transportation system that utilizes tamed Yakmel as a method of land transport.
Noteworthy locations
[
]
Sandrock
[
]
Near Sandrock
[
]
Around Sandrock
[
]
Beyond
[
]
The Great Begeondan

The Peripheries