Jurassic World: Dominion Dominates Fandom Wikis - The Loop
Play Sound
My Time at Sandrock is the second game in the My Time series, following My Time at Portia. It is currently being developed and self-published[1] by Pathea Games. Early Access is intended to start in early 2022 (delayed from its initial projected date of 2021), at which time the general public will be allowed to purchase the game for the first time. Information from the game itself is limited due to the non-disclosure agreement that beta players are under, and no information from the beta version can currently be published except what is shown in official Pathea media, such as on their Youtube channel.
As in My Time at Portia, crafting, resource gathering, and farming are key aspects of the game. The player character will take on the role as Builder in the dilapidated oasis town of Sandrock, a rough desert environment with scarce resources compared to the lush world of Portia, and attempt to rebuild the town to its former glory.
The ability for children to grow up, one of the most highly-requested features in My Time at Portia, was listed as a stretch goal during the Kickstarter, though it was not reached. However, on December 22, 2020, Pathea announced a Steam Wishlist campaign. In exchange for more people adding My Time at Sandrock to their Wishlist on Steam, new features will be added to Sandrock, ranging from makeup and more in-depth furniture customization to the ability for children to grow up. The game had already been wishlisted by 92,000 people at the wishlist campaign's start. The 250,000 wishlists goal was reached on June 2021 meaning that kids will grow up to at least primary school age.[2] In November 2021, the wishlist count reached 400,000 unlocking two additional romanceable characters, Ernest and Jane. The total number of wishlists cannot be seen publicly. The campaign can be viewed here[3] and will end when Sandrock releases in Early Access.
On April 8, 2022, My Time at Sandrock got permission to release in China.[4][5]
The Early Access version of My Time at Sandrock will release worldwide on May 26, 2022.
Platforms
[
]
The game will first be available on Windows 10 PCs via Steam, Epic Games, and WeGame. It is technically possible for Sandrock to run on Windows 7, though Windows 7 is not officially supported.[6] In addition, Sandrock runs on Steam Deck, tested by Pathea.[7]
Some months after Early Access ends and Sandrock officially releases on PC, it will launch on the Nintendo Switch, Microsoft Xbox One, and Sony PlayStation 4 and 5.
A Mac release is not currently planned, though it is a possibility; more information regarding a Mac version may be given closer to the official release of the game.[8]
Languages
[
]
The demo and beta version are both only available in Chinese and English. More languages will be supported in Early Access.
Development history
[
]
During My Time at Portia's extended Kickstarter campaign, a DLC set in Sandrock was listed as the ultimate stretch goal, but this goal was not reached.[11] Despite this, a multiplayer Sandrock DLC was mentioned since early 2018 in various developer comments on Steam.[12][13] No official news about it was announced and few details were given at the time.
Later, the possibility of having one or more games set in the Portia universe was mentioned by developers on the Steam forums[14] and the Steam profile page of the developer Loah mentioned My Time at Sandrock by name.[15]
In October 2019, the purported Sandrock DLC was confirmed to not be a DLC at all, but rather a new game. A Kickstarter campaign for My Time at Sandrock launched in October 2020.
The first visual of the game was released on August 13, 2020[9], depicting a young character with short black hair (later confirmed to be the male default player character, Max) overlooking a foggy, moody scene.
In November 2020, it was revealed that My Time at Sandrock takes place on a 40% larger map than My Time at Portia and the player will face a harder challenge to collect even basic resources. The player will start by recycling metal scrap and collecting stone, as well as collecting water.[16] The player cannot expect to be able to collect water from Martle's Oasis, and even live next door to a Hazardous Ruins.[16] It was also revealed that fast transport will take place by riding Yakmels instead of the Dee-Dee Transports used in My Time at Portia.[16] The game will feature a series of romance missions for each marriage candidate, gradually deepening the relationship between the player and the romanced character.
Sandrock remained in Kickstarter-exclusive beta access through the end of 2021.
Similarities and differences from My Time at Portia

[

]
There are some similarities between the two games in the series, though a key difference from My Time at Portia is that My Time at Sandrock will feature both singleplayer and multiplayer game modes. These game modes will be separate experiences, and the multiplayer mode is not required for enjoying the singleplayer mode. The timeline of My Time at Sandrock begins a little earlier than the story in My Time at Portia and ends a little later.
Though the maps of Portia and Sandrock are of the same size (two kilometers square), My Time at Sandrock will feature a 40% bigger map due to not having the Western Sea taking up a large chunk of the available area, like in Portia.[16]
As for other similarities, a few characters appear in both games and the Builder is involved in establishing a tunnel between the two communities. However, for the most part, Sandrock's plotline, characters, and environment are all new.
Characters
[
]
The Kickstarter campaign, official livestreams and the demo version have revealed a number of characters in the story. Almost all of them are residents of Sandrock:
In addition, two characters from the previous game might make an appearance in Sandrock:
Mint (

MTaP

), an engineer, is shown in the Kickstarter video but is not included on the concept art sheet of local residents.

Penny

, a traveling musician, has been mentioned by developer Zede05 as making an appearance. She, too, is not included on the concept art sheet of local residents.
The finished game is planned to have more than 30 characters.[17]
Locations
[
]
Sandrock is set in the Eufaula Desert and is surrounded by deep, craggy canyons and soaring mesas.[16] Sandrock and Portia are both members of the Alliance of Free Cities, a loose alliance between city-states.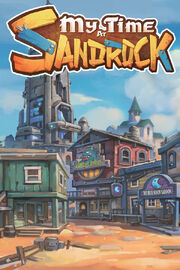 Mini-games
[
]
Sparring
Dune buggy racing
Sand fishing
Gun fighting
Holidays
[
]
Wildlife
[
]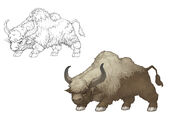 Media coverage
[
]
WePlay Expo 2020
[
]
Pathea Games hosted a six-space booth at the WePlay Expo on November 14-15, 2020, a gaming convention held in the Shanghai World EXPO Exhibition & Convention Center in Shanghai, China,[18] to promote My Time at Sandrock. Visitors to the booth were the first to play a public demo of the game.[19] The booth featured a large backdrop of the Sandrock landscape, desert-themed decorations such as fake cacti, sand, and piles of straw, several minecarts and wooden crates used as tables and chairs to allow players to try out the demo, and a Western cowboy duel-inspired game where participants were given toy pistols and a staff member officiated the duel. Many staff members wore cowboy-inspired hats and clothing, including blue bandannas emblazoned with the word "Sandrock," to fit with the theme, and one staff member cosplayed as Amirah.[20] Staff appearances included Pathea Games founder Zifei "zede05" Wu, vice president Aaron Deng, My Time series director Zhi Xu, and series producer Wei Yan.[19]
Reddit AMA
[
]
A Reddit AMA ("Ask Me Anything") session was hosted on November 19, 2020 and can be viewed here. During this AMA, many questions regarding My Time at Sandrock, My Time at Portia, the My Time world in general, game design tips, and more were answered.
Gallery
[
]
Concept art
[
]
Loading Screens
[
]
Promotional
[
]
System requirements
[
]
Minimum
Recommended

OS: Win 10
Processor: Intel Core i3-2100 | AMD FX-6300
Memory: 8 GB RAM
Graphics: Nvidia GeForce GTX760 | AMD Radeon 7950
DirectX: Version 11
Storage: 20 GB available space


OS: Win 10
Processor: Intel Core i5-2500K | AMD Rysen 5 1400
Graphics: Nvidia GeForce GTX970 | AMD Radeon RX 570
DirectX: Version 11
Storage: 20 GB available space

Videos
[
]
References
[
]